With a very challenging year behind us and only months away from the summer season of 2021, we compiled a list of 10 exceptional things to indulge into while in Santorini!

The Greeka team is in the process of revising many sections of the website in order to always remain up-to-date and have you fully covered. Currently we are focusing on the phenomenal island of Santorini, the top Greek summer destination and one of the most sought after worldwide tourist locations.

You can check our updated version of "Things to Do in Santorini" along with the "Highlights", so as to not miss out on anything.

Additionally, we bring you a brand new blogpost of selected noteworthy activities to experience during your next visit in Santorini. Let's dive in it!
Located directly south of the Akrotiri village, the archaeological site of Akrotiri took its name after the modern-day settlement; its ancient name remains unknown to this day. It can be found on the south-western part of Santorini, specifically at its cape, just as the Greek name suggests.
Dating back to the Bronze Age, Akrotiri was of great importance with its dual role as a Minoan urban center and port in the Aegean region. It was connected not only to mainland Greece, but also with afar civilizations like those of Egypt and Syria.

Sometime during the 17th century BC after a series of severe earthquakes a volcanic eruption followed, the ash of which buried the town and the whole island. It is also due to the volcanic ash that the remains of the settlement have been preserved in exceptional condition. Akrotiri is considered as one of the most important archaeological sites in Greece.
A great way of exploring the site is through a private guided tour of Akrotiri. Further discovery of the nearby red volcanic seashore and its emerald waters is highly recommended for a perfect day in the area. For that, a bus tour and a visit to the red beach are highly advised. Make sure to book your preferred Akrotiri tour in advance, as they can sell out due to their popularity!
Getting to know Santorini by land is one thing; discovering its coastal secrets, hidden gems and popular locations on a high-speed jet ski is a completely otherworldly experience. We highly recommend splurging on the jet ski safari routes available, as it is an experience that will enhance your view of Santorini. It adds the many hidden parts of Greece's top destination on its map, which could otherwise only be seen on documentaries. 
There are different jet ski safari routes available from May through October, with varying durations and different locations included. The fitness level requirements are welcoming for everyone, as well as the occasionally sporty.

Make sure to book the jet ski safari of your preference and experience Santorini in an unparalleled way!
A proper adventure needs quality fuel and your Santorinian vacation requires the best version of Greek-Cycladic cuisine to be complete. Luckily, there is no need to worry about it, we got you covered. The traditional Greek tavern "Metaxy Mas" is a must for every visitor of Santorini. Located ideally in Exo Gonia, the establishment is away from the hustle and bustle of the main towns. Loyal to the islandic decor and colors, the ambience is energizing and welcoming, only topped by the warmth of the staff.

The tavern is an ideal option for families with young children, groups of friends and couples alike. The views from its furnished terrace create the perfect background for some of the most mouth-watering meals in Santorini.

The menu at Metaxy Mas consists of traditional recipes, executed with the best seasonal and local produce, lots of care and in hearty portions. Moreover, a great way to enjoy your lunch or dinner here is by ordering a variety of tasteful appetizers like fava (local beans puree), melitzanosalata (smoked eggplant puree), the delicious tomatokeftedes (tomato fritters), along with the local variety of Assyrtiko wine.

And since great food should be savoured to its fullest, take a look at the best restaurants in Santorini.

One of the main spectacles of Santorini that ranks high in tourist bucket lists consists of its glorious sunsets. Among the most famous locations to admire it are surely the caldera villages, hence the high volume of tourists pouring in there. But in order to satisfyingly take in the majestic vista you need room, at least moderate privacy and noise absence. That is why we highly recommend visiting the lighthouse of Akrotiri, on the south-westernmost cape of Santorini. From there you will be able to fully enjoy the awe-inspiring red sun, gradually sinking into the azure horizon. The warm color palette of sea and sky alike will steal your heart with their romantic ambience.
It is not only about seeing what everyone else sees; going the extra mile while at Santorini pays off every time. We recommend taking a look at our carefully compiled sightseeing options of Santorini.
#5 Explore the Coastal Side of Santorini with a SUP Tour or Kayak Tour
There are two categories of visitors arriving at Santorini; those who prefer a mild adventure and those who are passionate thrill seekers. Thankfully the available sup tours and kayak tours are suitable for both!

Providing an excellent way of familiarizing with the seascapes of Santorini, sup tours are open to everyone and no particular fitness level is required. Three distinctive routes are available as long as good weather allows them: Kamari – Perissa beach, Mesa Pigadia – Red beach and Caldera Panorama. It is a wonderful way to experience Santorini with your family, friends, significant other or solo. The tour duration is approximately 2.5 hours and snorkeling time is included; after all, Santorini's volcanic seabed is home to exquisite sea flora and fauna. All necessary equipment is provided for your convenience. You are welcome to enjoy the sup tours from May to September. 

When it comes to the available kayak tours of the island, you will get acquainted with the seascapes at the southern coast of Santorini. You may opt for the morning tours if you prefer seizing the day, or the sunset tours if you want to conclude your day paddling and snorkeling inside the red colors of the setting sun. 
Nothing spells Santorinian summertime more accurately than a refreshing dive in the best infinity pool of the island. We invite you to spend your day at Cavo Tagoo's  heated, cliff-hanging pool and lounge on the floating plush sunbeds.

From there, you can get lost in reverie while the setting sun paints the horizon and the Aegean waters red. Combine your sunbathing and swimming with great signature drinks and snacks brought to you from the hotel's All Day Lounge.

The location of Cavo Tagoo is only a short walk away from Imerovigli village. You may select one of the 13 posh suites to spend your nights. We advise you to book them early on as they are super popular.

To top off a great day -or many-, we highly recommend dining at the multi-award-winning OVAC restaurant of the complex. Savor palatable Japanese – Mediterranean fusion delicacies with the stunning infinity pool as your background!
More about Cavo Tagoo | Check availability

Discover more of the best hotels in Santorini and live your Greek summertime to the fullest.
A great companion for your summer holidays right after your swimsuit is a good book, or two! What's better than bringing your own books along, is discovering a new one while on your vacation.

It is the combination of the land and seascape, the local aromas and colors as well as the feelings and memories created that enhance the book reading per se while on vacation. This is what the founders of Atlantis bookstore had envisioned while on their Santorinian vacation. They collectively brought into existence a multilingual, multigenre bookstore of new and older editions, hand-picked with care for fellow travelling booklovers.

A fantastic souvenir alternative, gifting to yourself or a beloved one a gem of literature from Santorini is highly recommended. One of the island's unique features, Altantis bookstore has been providing a literary aura to the already fascinating Santorini since 2004.

Discover more beautiful shops in Santorini to visit!
We know that the best way to enjoy and cherish an experience is by hands-on participation. One of the most entertaining and unique activities is embarking on a fishing boat trip off the Santorinian coast, where you get to catch your own lunch!

You will be able to learn some essential fishing tips from the accompanying fishermen, as well as hone your luring and baiting skills. Experience a most authentic and unpretentious side of Santorini with the traditional fishing trip and fresh fish lunch off the southern coast. Hardly anything beats a freshly cut Greek salad to cool you down, along with the mouth-watering fish of the Aegean grilled or fried on deck.

Another route to opt for if you are not a morning person is joining the sunset fishing trip with dinner and drinks.With the assistance of the captain and crew, you can catch your very own dinner and help cook it, or swim and snorkel in the sunset-colored sea while preparations are being taken care of.

Each trip can host a small group of up to 9 individuals, making it an ideal excursion for families or groups of friends. The sunset trip is idyllic for couples, thanks to the romantic ambience.

Leave your vehicle aside for a fantastic hiking evening during your Santorinian vacation. Participate in a gentle 10km hike through the most iconic and popular villages. Starting from the center of Fira, you will be crossing through Firostefani, Imerovigli and completing the tour once you enter Oia.

The settlements are rather tightly-knit together and there are plenty of stops for resting and photo shooting along the way for your convenience. The Caldera Trail Guided Hike and Sunset Viewing is a pleasurable route, through which you come across numerous Byzantine, whitewashed churches, art galleries and boutiques that may have remained unseen otherwise.

Moreover, it is recommended for groups of friends and couples, as the sunset ambience and colors create an inspiring and romantic aura. While hiking excursions are available throughout the tourist season, it is advisable to follow them from March to early June and from September to October, especially if you are visiting with young children or seniors. During the hot summer months it can get difficult to complete the hiking trail due to the blazing sun above.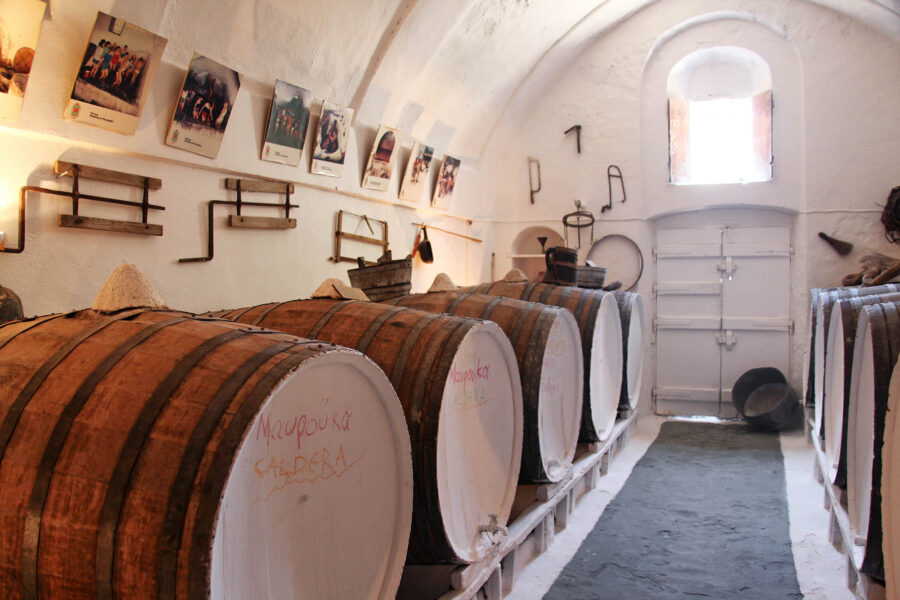 Any vacation in Santorini would feel somewhat incomplete, had you not participated in some wine tasting and exploration. For your convenience, there are various fascinating wine tours you can select from. As the volcanic soil of the island nurtures the vineyards, you are invited to follow a guided, well-assembled tour of the local flavors and wineries Santorini is so praised for.

From Fira and Oia to Akrotiri and Megalochori, from 4-hour to full-day tours, you will certainly find a well-suited option for you. Posing as an incomparable way of familiarizing with the Santorinian traditions and wine-making, these excursions are highly recommended for couples and groups of friends.

Take a more detailed look at the available wine tours and book your spot early on for your convenience!
The post What to do in Santorini: 10 special things appeared first on GREECE TRAVEL BLOG BY GREEKA.